Nicolai Luchkin
Father of Soviet Weightlifting Biomechanics
Merited Trainer of the USSR
USSR Champion 1932, 1933
Author of the first ever Weightlifting Textbook published in the USSR Translated into 17 languages (1940)
USSR National Coach (1946 – 1950)
The First Soviet International Category Referee
Author of
Lifting Weights Moscow, FiS, 1940; Weightlifting, FiS,Moscow, 1947; Weightlifting, FiS, Moscow, 1952; Weightlifting, FiS, Moscow, 1956
Weightlifting, FiS, Moscow, 1962
Numerous articles and papers
 Arkady Nikitovitch Vorobyev
1924 –
Merited Master of Sport of the USSR
Merited Trainer of the USSR
MD, PhD, Professor
Two Time Olympic Champion (1956, 1960)
Five – Time World Champion (1953 – 55; 1957-58)
Five – Time European Champion (1950, 1953 -55; 1958)
Ten – Time USSR Champion (1950- 59)
Established 21 World and 37 USSR Records
USSR National Weightlifting Coach of the Sixties
Author of
Contemporary Training of Weightlifters, 1964
Weightlifting Textbook for the Institue of Physical Culture
1972; 1981; 1988
Weightlifting (essays about physiology and sport training) 1971; 1977
Numerous papers and articles
Awarded the Order of Lenin
Decorated for Bravery in World War II
Alexei Sidorovitch Medveyev
Moscow
Lifted for "Soviet Wings", "Trud" (clubs)
Merited Master of Sport of the USSR.
Merited Trainer of the USSR.
PhD., Professor
The first Soviet "absolute"(superheavyweight) World Champion in 1957, 1958.
European champion 1956, 1958.
Five – time USSR Champion.
Established 1 –world and 40 USSR records.
Head coach of the national team (1970 – 1974; 1987 – 1989).
First vice – president of the European weightlifting federation (1969 – 1975).
Member of the executive committee of the IWF (1968 – 1980). Author of
From 500 to 600, Speaking With Young Friends, Becoming Hercules, A Multi – Year Training Plan, A System of Multi –  Year of Training in Weightlifting, A Program of Multi – Year Training in Weightlifting
Numerous papers
Medvedyev and his weightlifting faculty also devised and developed the Piece -meal programs in a series of books. Piece -meal programs were developed to provide long term programs incorporating as much of the accumulated scientifcally substantiated principles of training known at that time.
Height 180.5 cm; largest bodyweight 125 kg (1959); chest 116 cm; biceps 40 cm; thigh 65 cm; calf 43cm.
Robert Ansovitch Roman
1923 – 1988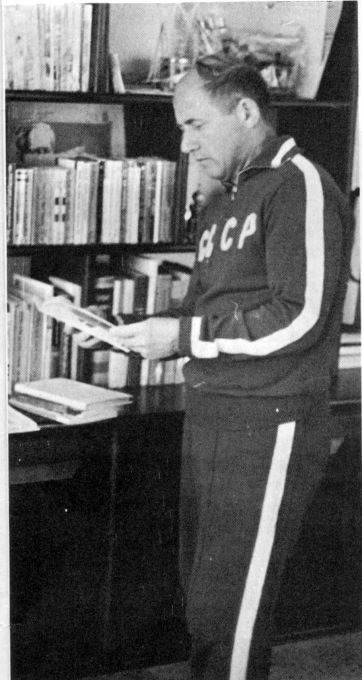 Vladivostok – Navy
Moscow – Soviet Wings
Medalist at the USSR Championships 1948, 1952 – 54 (56 kg).
A coach of the national team in the sixties.
Merited Trainer of the USSR.
PhD.
"Biomechanist Extraordinaire"©
Published more than 80 papers and books, etc about the training of weightlifters.
Author of
The Training of the Weightlifter 1968; 1974; 1986
The Press, the Snatch, the Clean and Jerk 1970
The Snatch, The Clean and Jerk 1978
Participated in the war against Japan (1945).
Awarded several medals for bravery
L.N. Sokolov
PhD
"Biomechanist Extraordinaire"©
Author of
The chapters of the Weightlifting Textbook dealing with technique: 1972; 1982
Articles
"Special Physical Training of Weightlifters"
"The Significance of Speed in Weightlifting and Methods to Develop it"
"Reasons for the Lagging of the Snatch"
"The Rhythm of Movement of the Weightlifting Triathlon Exercises"
"The Clean and Jerk Technique of V. Alexeyev"
"Some Questions About the Technique and Methods of Training the Clean and Jerk"
"Modern Training of Weighlifters"
Alexandr Lukashev
"Biomechanist Extraordinaire"©
Author of
"Time Structure of Inter – Muscular Coordination of the Snatch of Highly Qualified Weightlifters"
"Substantiation of Perfecting Snatch technique of Class II Lifters"
Biomechanics/Technique section of: A Multi – Year System of Training in Weightlifting; Weightlifting and Methods of Instruction
"The Clean and Jerk Technique of V. Alexeyev and G. Bonk"
Scientists Upon Whose Shoulders The Soviet Weightlifting Scientists Stood
N.A. Bernstein
Widely Regarded As The Father Of Motor Learning
Author of
Modeling in Biology, 1963
Essays on Physiology of Movement and the Physiology of Arousal, 1966
Historical Sources of Cybernetics and its Perspectives of its Use in Medicine (in the book Questions of Cybernetics in Biology and Medicine), 1960
L. P. Matveyev
Father of Periodization Theory of Training
Author of
Fundamentals of Sport Training (1977; 1986)
Numerous Articles
"All the sports structure links are interconnected"
Pre – Sopviet era Biologist Lescraft